---
ByzB 100 Level Classes
Both ByzB 101 and ByzB 102 use the flipped classroom model.  In this model the initial instruction is delivered via audio lessons, videos, and written text.   Students work through lessons independently and do some independent work and then meet online to review and check understanding.  Each course will have 2-3 half hour online sessions each week where students can ask questions, practice various skills, and take turns chanting and receiving feedback.
Each course runs 8 weeks.
---
Byzb 101: Introduction to byzantine notation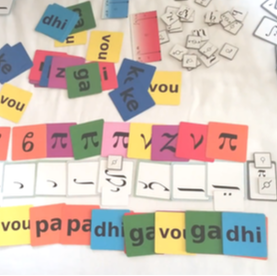 ​Taught by Samuel Herron & Amy Hogg
This course introduces students to interval symbols, rhythm, meter, martyries, and chanting on parallage.  A large part of the course includes ear training in hiermologic modes one and two.  Students can attend as many class sessions a week as they would like.
Course book and all other materials included. $195
​
---
byzb 102: brief first and second modes
​Taught by Samuel Herron & Amy Hogg
This course continues to build upon the skills needed to read Byzantine notation.  Mode switching and fthores are introduced and all of the symbols in ByzB 101 are reviewed and solidified.  In this course students work to develop reading fluency as they master the brief Resurrectional hymns from vespers in First and Second modes.   Students will have access to recordings of all of the hymns as well as guided reading videos of all the hymns in which the instructor walks through the hymn explaining tricky sections and chanting the phrases on parallage and melos.  Students will make recordings of the hymns and complete online homework to show mastery.  Students can attend as many class sessions a week as they would like.
​
Course book and all other materials included. $195
ByZHist 101: Development and History of Byzantine Hymnography
​Taught by Samuel Herron –
This class is a chronological breakdown of the developments in Byzantine hymnography, tracing the development from the early church up until the current day in the Orthodox Church. The student will learn about broader movements and developments in hymnography as well as the individuals who have shaped the hymnography of the church such as St. Romanos the Melodist, St. John of Damascus, St. Cosmas the Hymnographer, St. Joseph the Hymnographer, St. John Koukouzelis, and Petros Lampadarios. It will also provide the student an overview of both the textual developments and the musical developments throughout history in Byzantine Hymnography.
This class is organized into 8 units that are each one week long.  For each unit, students watch the week's lecture and respond to short answer questions independently.  Then they meet online together with the instructor to discuss the lecture and ask questions.  Students will have access to the power point presentation used in the lecture.
---
---
ByzM 301: Introduction to Papadic Hymns
Taught by Samuel Herron –
Intro to Papadic Hymns will cover one Papadic hymn in each mode while also covering the various genres, including some of the different Cherubic hymns and Communion hymns found throughout the liturgical calendar. The goal is to provide students with enough training to allow them to study other papadic pieces in all modes while also giving them a good base of hymns that are used frequently throughout the year so they will be prepared if they need to chant a papadic hymn in their church.  Prior to their online class session, students will listen to Sam's recording of the hymn and watch an instructional video on the hymn. In the video, Sam walks students through the piece and talks about things like papadic modal theory, the hymn's structure and the interpretation of various phrases. Students are to work on the hymn prior to class and prepare it to the best of their abilities. During the hymn's online session students will chant sections of the hymn, receive feedback from Sam, and have the chance to ask questions. Students will be expected to submit recordings of themselves chanting the hymns.
Because this is the first time running this class, the class will be stretched out across a bigger time span that the normal 8 week class. Students will spend 2 weeks on each hymn, with a break during most of Lent. Due to the modified and more flexible time frame, the class is likely to end in June. The online session day and time will be determined by the availability of those that sign up for the class. Samuel will contact students about this after registration closes.
In order to take the class, students should be able to chant doxastika well from Byzantine notation with little prep time. They should also be prepared to receive highly constructive feedback as this is an advanced class.
Some of the hymns that will be studied include: 1st Mode – O Taste and See – by Nicholas Roumas, 2nd Mode – Cherubic hymn – by Nicholad Roumas, 3rd Mode – Koinonikon In Everlasting Remembrance – by Gabriel Cremeens, 4th Mode – I Shall Take the Cup – by Samuel Herron, Pl 2nd Mode – Receive Me Today or Now the Hosts – by Samuel Herron
NEWS​​​

---

keep me updated on courses & materials!

* Indicates required fieldEmail *

I agree to receiving marketing and promotional materialsSubscribe to News
© COPYRIGHT 2020. ALL RIGHTS RESERVED.